Welcoming Patients from Dubuque, Davenport, Dyersville, IA, Nearby Wisconsin and Galena, IL
At Exceptional Dentistry, we are committed to remaining at the forefront of the cosmetic and family dentistry profession.
Dr. Kristen Berning brings a modern approach to treating young children, teens, and patients of all ages by sharing the latest in advanced techniques.  Dr. Alexia Oetken also utilizies advanced technology through her commitment to continous eduation. Dr. Ted Murray's dedication to your dental health is evident in his comprehensive education and his advanced training and teaching. Our professional team is up-to-the-minute in knowledge and training, participating in ongoing education courses along with our dentists. To ensure your comfort and safety, we invest in the very latest technology.
Digital photographs are useful for recording facial measurements and dental issues during a comprehensive dental health assessment. Digital photographs are also used to record "Before and After" pictures for your records, and perhaps also to help other patients review the results of specific procedures.  These photographs are also a critical part of the clinical record, and many times are needed for the dental insurance company.
Digital Radiographs (Digital X-Rays)
Digital radiographs eliminate up to 90% of radiation you would be exposed to with conventional X-rays. The images are immediately available for study, so our dentists can examine and explain what is happening in your mouth. Digital radigraphs are one of the ways Exceptional Dentistry can continue our commitment to your health and safety.
DIAGNOdent is cutting-edge technology that uses a laser to detect hidden or early areas of tooth decay. It has revolutionized a dentist's ability to find and treat cavities before they require more extensive treatment. It also allows the dentists to determine when a tooth is a good candidate for a dental sealant. Dental sealants are preventive restorations used to protect the tooth from developing a cavity on the chewing surface.
The i-CAT 3D Cone Beam Digital Imaging System
Whatever dental treatment you're considering, clear images of your teeth, gums and jaw are crucial if you are to get a sound diagnosis and treatment recommendation. That's why we use the i-CAT 3D Cone Beam Digital Imaging System. It provides our dentists with 3D images of your mouth and jaw structure, allowing us to gain crucial insight into your dental health. A typical scan takes just eight to fifteen seconds.
The LightScalpel CO2 laser is an advanced laser device that produces a concentrated beam of light. The highly focused CO2 laser beam vaporizes cleanly and precisely to deliver superior care for soft tissue procedures. The LightScalpel allows for mimimized bleeding, less swelling and discomfort, reduced risk of infection, shortened surgery time, faster recovery and better results. The laser is commonly used in our office to perform frenectomies which is a procedure to release tight tongue and lip ties, when the lingual frenum or maxillary labial frenum is too short and restrictive.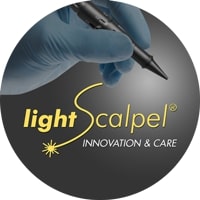 Tongue and lip ties can cause problems with breastfeeding, bottle feeding, swallowing, speech and other long term functional concerns. The LightScalpel CO2 laser can also be used to remove soft tissue enlargements in the mouth such as fibromas or bulky gum tissue. In addition, it can be used on canker sores and cold sores to speed up the healing time.
This very advanced laser gently sculpts gums and other soft tissue to achieve a more balanced and harmonious smile line. Its mild heat vaporizes small amounts of tissue, sealing the area to prevent bleeding. The diode laser can also be used to reduce bacteria under the gumline that is causing gingivitis and periodontal disease. This gives a shorter recovery time and optimal results. The diode laser can also be used on canker sores and cold sores to improve healing.
To reduce the number of traditional impressions taken using trays and putty-like material, Exceptional Dentistry uses a 3D scanner to take digital impresions of the teeth. This 3D digital image is used when taking impressions for Invisalign treatment, sleep apnea and snoring appliances, and traditional crown and bridge treatment. Patients appreciate that digital impressions are fast, easy and highly accurate, and elimates the need for trays and putty material in many situations.
Zoom! 2 In-Office Professional Teeth Whitening System
Fast, affordable, long-lasting tooth whitening six or eight shades brighter is available in-office with the Zoom! 2 Teeth Whitening system.  Teeth are whitened in usually just one office visit. To keep your brightened smile looking great, a custom-fitted pair of bleaching trays and highly effective peroxide gel can be used at home whenever you feel your smile needs a boost.
Myotronics K7 Evaluation System
The K7 is a highly accurate diagnostic device that effectively measures and records symptoms of temporomandibular joint disorder (TMJ). The K7 evaluates your bite, your temporomandibular joint (TMJ), your jaw muscles, and determines your relaxed jaw position, which gives a starting point for treatment.
The TENS unit gently stimulates muscle activity using low frequency electrical pulses. A session of 30 to 60 minutes will completely relax muscles that may have been tense for years. It is used in treating TMJ disorder.
No matter what your smile needs may be, Exceptional Dentistry has the tools, techniques, procedures and dedicated team to create the results you want.
Please email our friendly office today or call 563-556-2711 to schedule your initial consultation. We serve Dubuque, Peosta, Dyersville, Cedar Rapids, Davenport, Iowa and Galena, Illinois.
See What Our Patients Are Saying
"Every single lady I dealt with(or passed) is so very kind. My check-up cleaning was personable, kind, professional +then some. So glad I found my forever dental place. 😁 Thank you Look forward to next visit bc of them. Becky A."